CHC33015 Certificate III in Individual Support (Ageing)
All you need to know!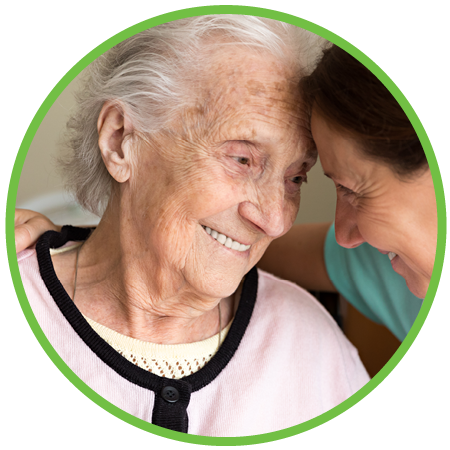 Start studying a CHC33015 Certificate III in Individual Support (Ageing) at HERC!
HERC is pleased to announce an exciting new partnership with our South Australian equivalent, The Australian Nursing and Midwifery Education Centre (ANMEC), to deliver CHC33015 Certificate III in Individual Support (Ageing).
This qualification is the entry level qualification for workers in the ageing, community and disability sectors. The certificate course has been developed to provide participants with a range of knowledge, and skills to gain employment in residential aged care or home and community care in the role of personal care worker; care assistant, care worker; residential care worker; or home care assistant. This course is designed for school leavers through to adult learners wishing either to enter the aged care sector, to enter a different industry sector and/or those already working in the aged care industry and seeking to up-skill.
The below information outlines all you need to know to get started on the track of your new career. It covers study dates, fees, course outlines, information on how to apply and any necessary entry requirements you may need.
Please get in touch with the team at HERC if you need any assistance or further info.
As part of this course you will learn:
The roles and responsibilities of a Care worker
To provide personal care and support to people
To support people to maintain their independence
To carry out activities related to an individualised plan
To support people living with dementia
To support family members who become the carer
The principles of identifying and maintaining a healthy body system
The key elements of safety in the workplace
Communication, working with diverse people and work legally and ethically in a residential and community based setting
Palliative care
This course is delivered over 16 weeks intensive study (not including any applicable holiday periods) in our training rooms at 182 Macquarie Street, Hobart, TAS, 7000.
This includes:
3 days a week (Monday, Tuesday & Wednesday) between 9:00am and 3:00pm classroom delivery including simulated training in our SIM lab
At least one day a week self-directed learning
Up to 4 weeks full time supervised work placement (minimum 120 hours)
This is subject to change
The next CHC33015 Certificate III in Individual Support (Ageing) course is starting on the 3rd August 2020.
Be of working age
Successful completion of Year 10 or equivalent level of study
Australian Citizen or hold a permanent residency visa
Students are required to undertake a Language, Literacy and Numeracy (LLN) assessment prior to acceptance into this course.
The LLN test endeavours to identify the skill level of the applicants by assessing:
general reading skills
the ability for the applicant to follow simple instructions
the ability for the applicant to perform mathematical tasks that require addition, subtraction, division and multiplication
assessing reading, writing, spelling and comprehension
HERC is a leading registered training organisation in the health profession, we offer:
Fully qualified nurse educators that have experience in acute, mental health and aged care settings
Professional service supported by our Student Support Team
A supportive learning environment that includes a variety of teaching methods
Fully equipped training rooms, student facilities and practical simulation lab
Access to our library, computers and WIFI, during business hours
Attend a mandatory information session followed by a group interview with two educators.
This will cover:

Course delivery and duration
What you will learn in the course
Cost of course
Eligibility for training subsidies through Department of State Growth, Tasmania
What you need to do to undertake the course
Why you should choose to study at HERC

Fill in an application form
Complete the compulsory Language, Literacy and Numeracy (LLN) assessment
The Certificate III in Individual Support is a funded course under the Department of State Growth and is available at the subsidised rate of $400 for eligible students. There may be limited funded places available.
To be eligible for the funding:
The potential learner must be a Tasmanian Resident (a Tasmanian resident is defined as a permanent resident of Australia living in Tasmania for a minimum of six (6) months)
The potential learner must be aged 15 years or older
Further to this, to be eligible for the funding, you must be defined as a job seeker.
A job seeker is someone who is:
Not a school student as defined by Sections 3 and 4 of the Education Act 1994; OR
Registered with an Employment Service Provider (ESP); OR
An income support recipient who is not currently required to meet activity test or participation requirements; OR
A participant in an Australian Government labour market program; OR
Not currently working and seeking or intending to seek paid employment or self-employment after completing the qualification; OR
Not working and participating in volunteering activities; OR
A person currently employed who's contract of employment is classified as "casual" unless otherwise specified in the documentation for each program
The cost of the most recent course was $4,836 in total, including a $400 non-refundable enrollment fee.
There may be funding available for eligible students through the Department of State Growth Tasmania which will reduce the cost of the fees. Please see above section for eligibility criteria.
All students accepted into the course will be required to set up a payment plan at the beginning of the course, which will direct debit the associated fees each week/fortnight/month.
To achieve this qualification, a total of 13 units must be successfully completed, which comprise of 7 core units plus 6 elective units.
On successful completion of the qualification, students will be awarded the CHC33015 Certificate III in Individual Support (Ageing).
| | | |
| --- | --- | --- |
| CHCCOM005 | Communicate and work in health or community services | Core Unit |
| CHCAGE001 | Facilitate empowerment of older people | Elective Unit: Specialised (Ageing) |
| CHCLEG001 | Work legally and ethically | Core Unit |
| HLTWHS002 | Follow safe work practices for direct client care | Core Unit |
| CHCCCS002 | Assist with movement | Elective Unit: Specialised (Ageing) |
| CHCCCS011 | Meet personal support needs | Elective Unit: Specialised |
| CHCCCS015 | Provide individualised support | Core Unit |
| CHCCCS023 | Support independence and well-being | Core Unit |
| CHCPAL001 | Deliver care services using a palliative approach | Elective Unit: General |
| HLTAAP001 | Recognise healthy body systems | Core Unit |
| CHCMHS001 | Work with people with mental health issues | Elective Unit: Specialised (Mental Health) |
| CHCAGE005 | Provide support to people living with dementia | Elective Unit: Specialised |
| CHCDIV001 | Work with diverse people | Core Unit |
Please note
HERC are obligated under the training standards to ensure students undertaking courses are fully informed of the course requirements, course fees and are going to be successful at completing the qualification and successful at gaining employment. In order to do this, HERC require applicants to complete a questionnaire and language, literacy and numeracy test as a way to determine this and if not, suggest support options.
Aboriginal and Torres Strait Islander &; culturally and linguistically diverse background applicants are encouraged to apply.
We are currently taking expressions of interest for the next CHC33015 Certificate III in Individual Support (Ageing) course starting on the 3rd of August 2020. Click the 'Enquire Now' button to contact us.